So about two years ago, like almost every other gun owner or soon to be under the age of 70, I said to myself, "Self, your manhood and the ability to fight off the zombie horde depends on you owning a AR. The internets say so!"
So, I went to the forums, talked about it, learned about it, got some bits and pieces through trades and buying parts off of forum members and such. I read all the gun magazines and learned about all the most popular brands of these 60 yr old new design rifles and why they really are so popular and why wood on them is a cardinal sin (hint: the answer is video games) I realized that almost two years later, that I had absolutely zero clue what I wanted and all I had to show for it was a bolt carrier with no bolt, a charging handle, a piece of 45 degree rail and a couple of fore grips.
About that time my buddy (we will call him the Grasshopper here) just got his done in 6.8 and another upper in 5.56 and got me hooked up with Midland Armory. Derick seemed to know exactly what I wanted after I told him these few tacticool ideas I had for it. I wanted it to be accurate enough for prairie dog hunting, and lightweight enough for a 3 gun competition as well as adaptable enough to throw my cupholder on it for those all day aluminum can shoots.

Here's to the high life
Well a couple weeks later, I met up with him and watched with amazement as he put this gun together. I have watched it on Youtube, but never in real life, holy crap this dude is flying, but the cool thing is he took the time to explain the how and why as he did it. Before I knew it it was done and I was excited to get right outside, soak that sucker in oil and shoot!!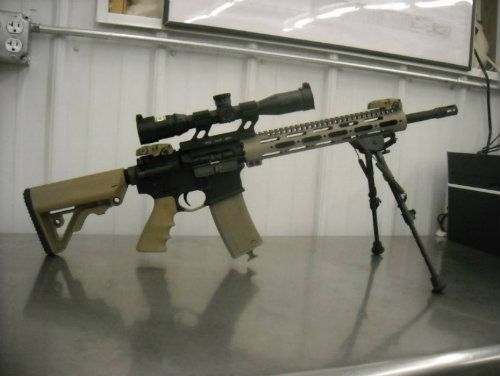 And that's just what I did. These are also my first legit videos on my Youtube channel. New videos coming soon!
http://www.youtube.com/watch?v=pF-j7X1OmEc
http://www.youtube.com/watch?v=bmlAemTkOe0