Archives For Juan-A-Be The Luchador
Now if we could only get rid of the permit process, and be a constitutional carry state.
DENVER, Mar 20, 2012 (GlobeNewswire via COMTEX) — Multicard, a leading supplier of credential solutions, identity management and system integration services and a business unit of Identive Group, Inc. announced today that it has developed and implemented a standardized "concealed carry" handgun permit for Colorado's county sheriffs' association. For this latest secure identification project for public safety organizations, Multicard has designed and produced a secure, pre-printed identification card to be used statewide.

Multicard was awarded the contract by the County Sheriffs of Colorado Association, an organization that advocates for the Office of the Sheriff across the state. "Carrying a concealed weapon" (CCW) permits are issued through the local sheriff's office in each of Colorado's 64 counties. While the application process is the same statewide, prior to this project there was no unified standard for the permit's design or production. Steve Benitez, Vice President of Sales for Multicard explained, "Without a state standard, it was difficult for law enforcement to verify a valid permit if issued from other counties. This also left room for forgery and fraud. Our goal was to develop and implement a secure statewide standard for the permit so that all sheriffs' offices will be issuing the same document. The permit design needed to address previously established requirements including the permit holder's photograph and other identifying information, as well as the signature of the sheriff issuing the permit."

The county sheriffs' organization contracted with Multicard to develop the permit design, securely produce the pre-printed card templates, and consult on implementation. A design template incorporating all required information and additional security features was created and pre-printed on standard CR80 size PVC card stock, which is similar to a credit card in size and thickness. The pre-printed card stock was then distributed to the counties for issuance. Additionally Multicard is supplying the fully compatible ID systems needed to print the final permit, which include a configured production software module and printer.

"The CCW permit project was an important initiative and Multicard has fulfilled our expectations for a standard, easily recognizable credential statewide. We are very pleased with the results and with the speed and professionalism of Multicard's service in designing and implementing this solution for the State of Colorado. Tamper-proof security features make it virtually impossible to recreate the permit and law enforcement can be assured that a CCW permit is state-approved and legal," said Gary Cure, Assistant Director, County Sheriffs of Colorado.

About Multicard

Multicard, a business unit of Identive Group, Inc. is a worldwide supplier of card solutions for secure identification programs, with in-house capabilities for credential issuance, personalization and fulfillment for the consumer, government, education, healthcare, smart community and corporate markets. Multicard offers a complete open payment platform, ID systems management and engineering services as well as full implementation and program management. Multicard also is a provider of enrollment, emergency management and accreditation solutions using government or corporate IDs. For additional information, visit www.multicard.com .

Identive Group, Inc. is a leading provider of products, services and solutions for the security, identification and RFID industries. For more information, please visit www.identive-group.com .
Multicard Implements Statewide Standard Credential for Colorado's Concealed Carry Handgun Permit – MarketWatch
Check this shit out! Thanks to Dan Cline for the link.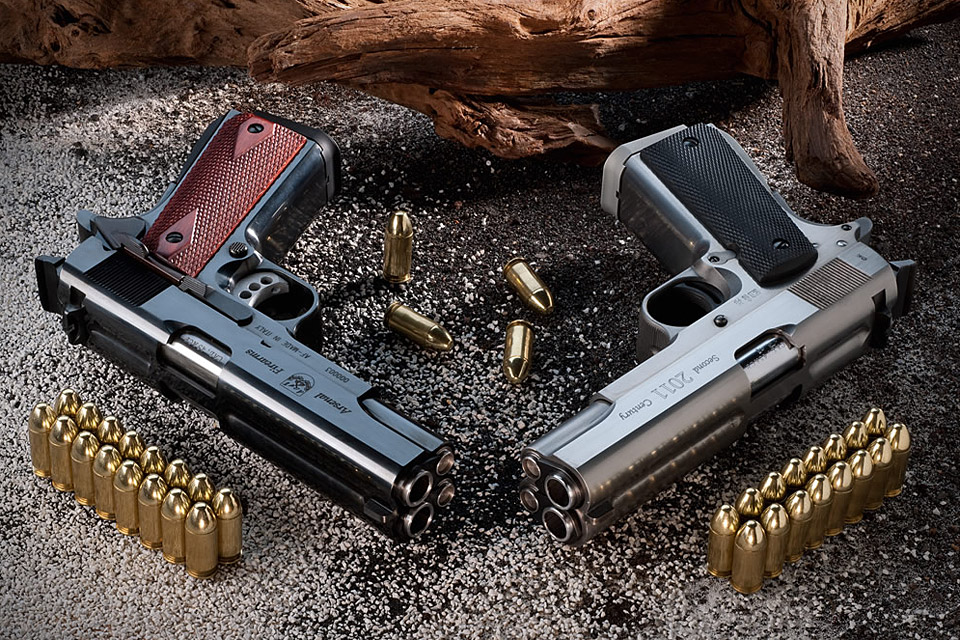 The link below has the boring stuff (info)
Arsenal Firearms Double Barrel Pistol | Uncrate
And here is a video that over the top ridiculous.
Usually any time spent out at the range is a great time. Family Shooting Center at Cherry Creek State Park here in Colorado, has managed to make it a pain in the ass to go shooting.
Our resident failed politician Edgar, as you all know is an NRA certified instructor. He's a new instructor, so he's fighting the hundreds of existing instructors for range time.
After being bumped from a range due to a tenured instructor needed the range that same day, Edgar called other ranges to schedule a class. Family Shooting Center was the only range that said yes. Edgar was very pleased at this time, despite the fuckloads of bad reviews, Edgar was still pleased.
Day of the class came. Excellent students attended and class ended early, and off they were to get their range time in.
As soon as they got the the state park, shit went down quicker than El Bombardero at Charlie's Denver. Okay, the long line to get into the park is not the range's fault.
The high price to shoot was paid… and the waiting game began. Finally they get called up to shoot, they only get one lane after two were promised. Range master checks all guns, and gives the ok to shoot… oh they have to wait some more now because the range has fixed targets, and you can only replace targets every 30 minutes. They finally stop the range for target change, and God forbid you step on the yellow line because they will call in the secret service on you, and have the IRS audit you – I'm not exaggerating.
Well picture the poor bastards having to do their range time one by one, and sometimes having to use the same target as the previous guy. FSC staff were even complaining about El Bombardero's 30 round Glock mags.
We get it, two Australian chicks shot each other, and I hate to sound insensitive but we all should not suffer for it. I do hear that it was this fucked up before the two chicks shot each other, so their Nazi attitude clearly did not stop any bad shit from happening.
Having fun is a big part of attending a firearms class, and Family Shooting Center turns it into a robot like operation. So fuck them, and I'm sure El Bombardero could explain this more eloquently, but this is the best you're getting from a hood luchador.
The clip below expresses my feelings on how FSC runs their shit.
Story completely stolen from Fox News.com, El Bombardero's ONLY news source.
The Houston Astros' plan to pay tribute to their roots by wearing throwback uniforms with a smoking Colt .45 across the chest is back on, after Major League Baseball dropped its objections.

Nobody batted an eye in 1962 when the Astros' forebears, the Houston Colt .45s, first took the field. But with views toward guns changing over the decades, Major League Baseball balked at the team's plan to mark its fiftieth season by donning the retro jerseys. League officials first said the gun that won the west had no business on the uniforms, but then said it was up to the team.

Owner Jim Crane said Friday the guns will be on the replicas of original Colt .45s jerseys during the April 10 and April 20 games at Minute Maid Park.
"We made this decision for a number of reasons," said Crane. "We listened to our fans, who were almost unanimously in favor of wearing the original jersey. We wanted to honor all of our past uniforms during this special 50th anniversary season, and we felt it was important to be true to the tradition of the franchise."

The controversy brought to mind the name change undergone by the NBA's Washington, D.C., franchise in 1997, when it ceased to be known as the Bullets and rebranded itself the Wizards in sensitivity toward the issue of gun violence.

But gun rights enthusiasts and fans of the Texas team blasted the league's heavy-handedness, with one Marine captain and Astros fan, James Crabtree, writing to urge Crane not to cave in to "political correctness."

The team, which became the Astros in 1965 in honor of the nation's space program, plans to wear various throwback uniforms throughout the season on "Flashback Fridays." The uniforms will also include the mid-70s rainbow jersey long panned as among the ugliest jersey ever worn by pros.

In that maiden season, the Colt .45s went 64-96-2, with an expansion team full of no-names. The next season, future stars Jimmy Wynn, Joe Morgan and Rusty Staub joined, but the Colt .45s never got much better. This year's team may have more in common with those early squads than jerseys: After finishing 56-106 last season, they will start a new player at every position and are widely expected to be among the worst teams in either league.
Astros Will Don Retro Jerseys After MLB Drops Gun Control Bid | Fox News
I'm not sure what to think about this yet really. Part of me thinks wanna-be (that sounds familiar- wanna-be), the other part kind of wants to fuck her…
Shoot an AR-15 & Glock 17 with The Urban Survival Chick! from Jorge Bueno on Vimeo.