Archives For New Guns
So about two years ago, like almost every other gun owner or soon to be under the age of 70, I said to myself, "Self, your manhood and the ability to fight off the zombie horde depends on you owning a AR. The internets say so!"
So, I went to the forums, talked about it, learned about it, got some bits and pieces through trades and buying parts off of forum members and such. I read all the gun magazines and learned about all the most popular brands of these 60 yr old new design rifles and why they really are so popular and why wood on them is a cardinal sin (hint: the answer is video games) I realized that almost two years later, that I had absolutely zero clue what I wanted and all I had to show for it was a bolt carrier with no bolt, a charging handle, a piece of 45 degree rail and a couple of fore grips.
About that time my buddy (we will call him the Grasshopper here) just got his done in 6.8 and another upper in 5.56 and got me hooked up with Midland Armory. Derick seemed to know exactly what I wanted after I told him these few tacticool ideas I had for it. I wanted it to be accurate enough for prairie dog hunting, and lightweight enough for a 3 gun competition as well as adaptable enough to throw my cupholder on it for those all day aluminum can shoots.

Here's to the high life
Well a couple weeks later, I met up with him and watched with amazement as he put this gun together. I have watched it on Youtube, but never in real life, holy crap this dude is flying, but the cool thing is he took the time to explain the how and why as he did it. Before I knew it it was done and I was excited to get right outside, soak that sucker in oil and shoot!!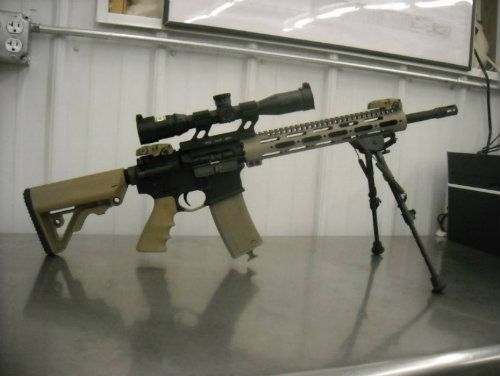 And that's just what I did. These are also my first legit videos on my Youtube channel. New videos coming soon!
This is funny shit. Because of Arsenal Firearms and the "revolutionary" AF2011-A1
Robb Allen at Sharp as a Marble (I just found another blog to follow btw)
came up with this gem
This quote makes reading the post all the more worthwhile:
Kel-Tec CEO George Kellgren was quoted as saying "Let them unoriginal pricks over at Ruger copy this motherfucker." Ruger responded by announcing a recall of its soon to be produced LCPPP.
(I took the liberty of adding in what was censored at SaaM)
For you bitches lusting after one of these, remember, Kel Tec is reading this too and you know they are thinking about it. Hell, look at how many of their cool guns like the KSG are in the market right now….. Oh wait, I can't get one either.

Check this shit out! Thanks to Dan Cline for the link.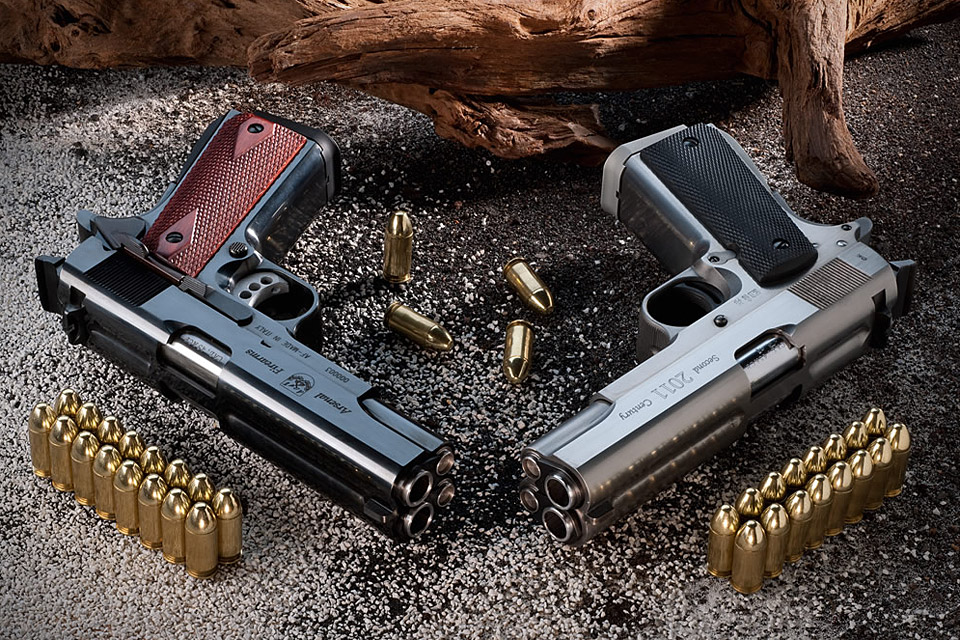 The link below has the boring stuff (info)
Arsenal Firearms Double Barrel Pistol | Uncrate
And here is a video that over the top ridiculous.
For Immediate Release:   3/8/2012
BELLEVUE, WA — The Second Amendment Foundation is delighted that the Washington State Supreme Court has unanimously denied the City of Seattle's petition for review in the case of Winnie Chan v. City of Seattle, a legal action brought by SAF, the National Rifle Association and five individual plaintiffs.

The decision affirms the state's long-standing preemption law and two lower court rulings, thus preventing the city from banning firearms from city parks property.

It was the third straight loss for the city, which had first attempted to ban firearms from park facilities under former Mayor Greg Nickels, in open defiance of Washington State's model preemption statute. Following its initial loss in King County Superior Court, the city, under Nickels' successor, Mayor Mike McGinn, appealed its loss to the State Court of Appeals. That court also ruled unanimously against the city, which petitioned the state high court last year for review.

"We are proud that the State Supreme Court panel, led by Chief Justice Barbara Madsen, unanimously rejected Seattle's flagrant attempt to override state law and violate the civil rights of citizens living in or visiting the city," said SAF founder and Executive Vice President Alan M. Gottlieb. "Mayor McGinn and the City Council should be ashamed that they pursued this pipe dream in an effort to turn the city into a banana republic. By letting the appeals court ruling stand, other anti-gun officials in city and county governments are on notice that they simply cannot ignore state law.

"We are equally proud of our partners in this important legal action," he continued. "We were joined by the NRA, Washington Arms Collectors, the Citizens Committee for the Right to Keep and Bear Arms, and five courageous citizens. Our plaintiffs were willing to stand up to the city and public officials who seem determined to transform Seattle into a political gulag where a civil right can be dismissed at will in the interest of political correctness.

"And finally," Gottlieb stated, "we are all very proud of our legal team led by Steve Fogg and Molly Malouf at Corr Cronin. They did a marvelous job, not only for their clients, but for the citizens of this state, whose civil rights apply everywhere, whether the City of Seattle likes it or not."
The Luchadora bought me a Bushmaster AR15 for Valentine's day (just happened to be around that day). It came straight from Bushmaster with the Magpul MOE package, in FDE. The fucking thing was sexy to begin with, but the FDE was starting to look a bit feminine so I swapped it out to manly OD Green.
Besides removing the worthless vertical fore grip, all that changed was the color… well I upgraded from the MOE Grip to the MOE+ Grip, soon I'll get the MAID Grip for it and add the Magpul Angled Fore Grip.
Here are pics of the process.
When I saw this video I thought to myself, "Finally, a 1911 for children. I thought it would never happen".
Pretty cool little gun, emphasis on the "little". I think Kimber makes some beautiful weapons, they are also prohibitively expensive and I would really never consider buying one.
I'm still not sold on it. I think it's cool, but not cool enough to actually buy. Oh, and calling it tactical seems a little disingenuous to me. I mean really, where are the rails and shit?
That's right, you heard right. Check out the specs and write up MilitaryTimes.com put together. This should effectivly take care of most AK lovers biggest gripe on the AR. It shoots their favorite ammo. I can't wait to get behind one of these suckers. Don't sound like anyone has shot one though, and I hope to god it shoots as good as it looks.
Just saw this on Twitter.
An AK pistol chambered in 5.56x45mm, brought to you by K-VAR.
SPECIFICATIONS

• Caliber: 5.56 x 45 mm (.223)

• Total Length : 489 mm (19.25 in.)

• Barrel Length: 267 mm (10 1/2 in.)

• Rifling: 6 grooves

• Twist Rate: 1 in 178 mm (7 in.)

• Weight without Magazine: 3.31 kg (7.3 lbs.)

• Muzzle Velocity: 910 m/s (2,985 fps)

• Rear Sight Range: 500 m (547 yds)
Pretty sweet looking gun. Personally I prefer the 7.62x39mm, but I know a lot of people don't. Says it goes on sale now with a shipping date near the end of February. Only $789.