*NOT GUN RELATED*
Bus monitor takes verbal abuse from 12 year old. Bus monitor ignores abuse. Video of abuse and ignoring goes viral. Bus monitor gets sympathy cash equal to the salary of a top shelf stripper.
ROCHESTER, N.Y. – An online fundraising effort to assist a bus monitor who was verbally abused by students raised more than $118,000 in its first day.
The height of insanity? Hardly.
District officials called in police, Klein and the bus driver. An investigation was launched. Students were questioned by police.
Jesus buttfucking Christ. The police? An investigation?
Surely the bus driver took every word to her poor little grandmotherly heart, right? Nope, she's fucking half deaf.
She said she didn't hear all of the taunting while it was happening because she is hearing impaired.
What was the money raised for? Hearing aids? Therapy? Nope, a vacation.
"I saw the video and really felt for Karen," he said. "I have some experience with bullying from when I was young and what they were doing to her was just heartbreaking. The best thing I could think to do was start a fundraiser to send her on a vacation."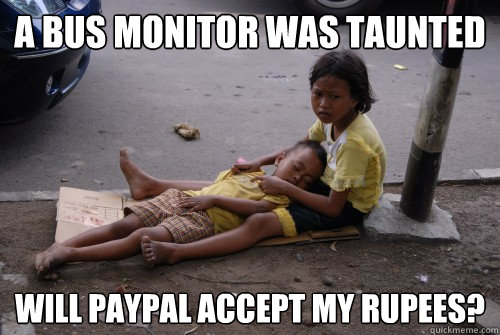 I don't even know what to say anymore about shit like this. I quit.